Well, its that time of year now where I'm going to be using my crockpot much more frequently! With the cooler weather coming, I'm craving stews, chilli and soup.
This recipe is very quick to throw together and will leave your house smelling amazing! You can use the vegetables listed in the recipe, but feel free to make some substitutions based on your preference or whatever you have in your house! I had a lot of veggies to use up before they went bad, and decided a stew would be a great way to use them.
Plant Based Protein
Even though this is vegan, its got both chickpeas and red lentils. 1/2 cup chickpeas or lentils provides about 10g of protein and also about 10g of fibre.
High Fibre
Between the beans and tons of veggies in this recipe, it will surely help you reach your fibre goals for the day! Fibre contains a number of benefits:
Helps to keep us feeling full
Helps with digestion and keeping us regular
Lowers cholesterol
Improves gut health (acts as food for good bacteria aka probiotics)
Keeps blood sugar levels stable
Manage Inflammation
Spices contain anti-inflammatory compounds. The beans and vegetables also contain lots of antioxidants which can help to manage inflammation.
This is a great recipe for you weekend batch cooking!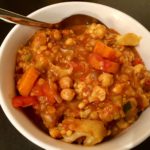 Vegan Moroccan Chickpea Stew
Healthy comfort food recipe made in the crockpot.
Ingredients
1

small

cauliflower, chopped into florets

1

carrot

peeled and sliced

1

zucchini, diced

1

medium sweet potato, diced

1

onion

diced

1

red pepper, diced

4-5

cloves of garlic (or more if you love garlic)

1

15 oz

can of diced tomatoes

1

can of chickpeas, drained and rinsed

1

cup

dry, uncooked red lentils

3-4

cups

vegetable broth (no salt added if watching salt intake)

1

tbsp

turmeric

1

tbsp

cinnamon

3/4

tbsp

cumin

1/2-1

tsp

cayenne pepper (or more to taste)

1

tbsp

paprika

3

bay leaves

Salt and pepper to taste
Instructions
Add vegetables into the crockpot and turn on high.

Add the can of diced tomatoes, vegetable broth, chickpeas and uncooked lentils and stir. Add the spices and mix well to combine. You can need to add more vegetable broth, keep an eye on it as it is cooking and add more at about 1/2 cup at a time.

Cook on high for 5 hours, or on low for longer (if you would like this to cook all day). Stir every hour or so if you are able to. Add more liquid if needed, but the consistency should be thick, not like a broth soup.

Adjust the amount of seasonings to taste. Remove bay leaves before serving.
Enjoy!
-Andrea Docherty, RD