Vegan Cauliflower 'Alfredo' Pasta
We always hear "eat the rainbow!" meaning choose colourful fruits and veggies, but lets not forget about white vegetables! This recipe is packed with a few – cauliflower, onions and garlic. Variety is so important because each colour provides a unique set of vitamins, minerals and antioxidants. Cauliflower belongs to the same family as cabbage, kale and broccoli and contains compounds that can help reduce your risk of cancer. Quercetin is a phytonutrient in onions that has both anti-inflammatory and antioxidant properties.
I saw this recipe in the January edition of Triathlon Canada Magazine and made a few adjustments to it. It has a creamy texture and cheesiness from the nutritional yeast. It resembles an alfredo sauce.
Nutritional yeast is deactivated yeast and is vegan. Also known as "nooch," you can find this in health food stores or the natural foods/organic section of grocery stores. It is an excellent source of B12, which is important for maintaining healthy nerve cells. Along with the other B vitamins, it plays a role in converting food into energy that our cells can use.
You could also add some cooked, diced boneless, skinless chicken breast at the end to boost the protein if you are making this with regular whole wheat, brown rice or quinoa pasta since this is lower in protein that the chickpea pasta.
Recipe:
Serves – 4-6
 Ingredients:
½ cup raw cashews
1 head of cauliflower
1 clove of garlic
1 tsp of olive oil
¼ cup of nutritional yeast
½ sweet onion
½ tsp garlic powder
1 tsp Dijon mustard
salt and pepper to taste
½ – 2/3 cup of unsweetened almond or cashew milk
2 tbsp lemon juice
2 cups of baby spinach chopped
¼ cup of chopped parsley
227g bag of pasta (Use whole wheat pasta, brown rice or quinoa pasta. I used Chickpea __ from Banza)
Directions
Chop cauliflower into bite sized florets. Steam the cauliflower until it is soft, about 5-10 minutes.
Dice the onion and mince the garlic clove. Heat 1 tsp of olive oil in a pan. Cook the garlic and onion on medium heat for about 5-10 minutes.
Meanwhile, chop the baby spinach and set aside.
Bring a pot of water to boil to cook the pasta. Follow instructions on the package to cook.
To make the sauce, in a food processor, add the steamed cauliflower, onions and garlic. Before adding to the food processor, let sit for a few minutes to cool slightly. Add the almond milk, Dijon mustard, garlic power, lemon juice, salt and pepper. Blend until smooth.
Drain the pasta and place in a bowl, immediately add the sauce and chopped spinach and stir. If the sauce is not hot still, you can place this all in the pan you used to cook the onions and garlic and let simmer on low for a few minutes to heat.
Top each serving with 1-2 tsp of chopped parsley if desired.
Recipe adapted from: Creamy Cauliflower Cashew Pasta from January issue of Triathlon Canada Magazine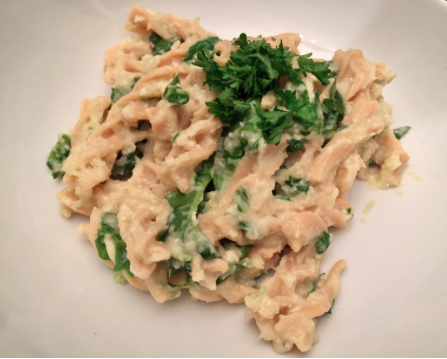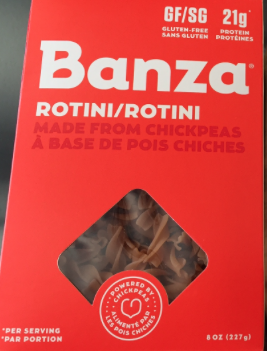 Andrea Docherty, RD
Registered Dietitian and Sports Nutritionist
Windsor, ON