Radio
I am a trusted nutrition expert on The TKO Show with Kara Ro on AM800 from 12:30-1pm every Tuesday. Listen this 30 minute segment for an upbeat and informative talk on exciting nutrition topics.
See the list below for all my past segments and topics:
March 21 – Difference between Nutrition needs for Elite & Recreational Athletes
March 28 – Eating to Improve Energy Levels
April 4 – Quick, Healthy Breakfast Ideas (You can watch the Facebook Live recorded video of this segment featuring a cooking demo: Breakfast Ideas Video)
April 11 – Nutrition for Shift Workers
April 18 – Nutrition for Picky Eaters (Adults & Children)
April 25 – How to Manage Cravings
May 2 – How to Eat Healthy at Restaurants
May 9 – Grocery Shopping Tips
May 16 – Healthy Long Weekend Snacks, Appetizers and BBQ Swaps
May 23 – Gluten Free Eating (May is Celiac Disease Awareness Month)
May 30 – Pre and Post Workout Eating
June 6 – Hydration
June 13 – Nutrition for Men and Men's Health Week
June 20 – Tips for a Healthy BBQ plus health benefits of different oils and salt
June 27 – Anti-Inflammatory Nutrition
July 4 – Myths and Truths about Boosting Your Metabolism
July 11 – Simple Tips to Lose Weight Without Dieting (Tips for being more mindful and aware of environmental cues that can trigger us to overeat)
July 18 – Foods your thought were healthy but actually aren't and underrated healthy foods
July 25 – Proposed Changes to Canada's Food Guide
August 1 – Vegan and Vegetarian Diets
August 8 – Entomophagy – Health and Environmental Benefits of Eating Insects
August 15 – Heart Healthy Eating
August 22 – Back to School Lunches
August 29 – Back to School Nutrition Tips for Teachers
September 5 – Foods to Boost Your Mood
September 12 – Anti-Aging Foods (Healthy Skin, Preventing Vision Loss and Brain & Bone Health)
September 19 – Best ways to prepare vegetables to maximize nutrient absorption & creative ways to use pumpkin
September 26 – Label Reading Tips
October 3 – Canadian Paediatric Society's recent position on the use of Sports Drinks and Energy Drinks in children and youth
October 10 – How to get back on track with your eating after the holidays
TV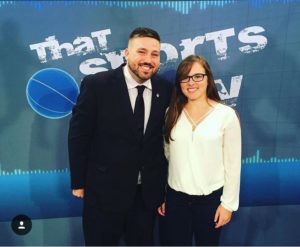 I am a regular guest on That Sports Show with host Brett Hedges, providing sports nutrition tips and recipes.
Past segments include:
September 19 – Sports Nutrition Tips
October 3 – Tips for a Healthy Thanksgiving
October 10 – Busting Sports Nutrition Myths
October 17 – Healthy Snacking and How to Make Homemade Energy Bites
Newspaper
The Windsor Star, Dec 2016 – Menu items to include calorie counts starting January 1
Magazine


Cycling Magazine, June/July 2016 – Avoiding the Bonk
WindsorSportsXpress, July/August 2016 – Gain the Competitive Edge by Working with a Sports Dietitian
Neighbours of Riverside, April 2016 – How to Spring Clean your Kitchen and Eating Habits
InPlay! Magazine, March 2017 – Include Protein at Every Meal for Best Results
InPlay! Magazine, April 2017 – The 3 R's of Recovery
Neighbours of Riverside Magazine, April 2017 – Spring Clean your Eating Habits
Neighbours of Riverside Magazine May 2017 – Recipe: Beautiful Berry Smoothie
Neighbours of Riverside Magazine, August 2017 – Tips for Back to School Lunches for Kids
Neighbours of Riverside Magazine, Sept 2017 – Recipe: Quinoa Apricot Energy Bars
Other
Infinit Nutrition Canada Blog: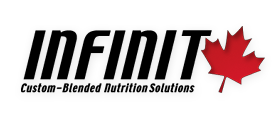 October 2016 – Managing Inflammation with Nutrition
October 2016 – Time Saving Meal Planning Tips
December 2016 – The Role of Vitamin D in Health and Performance
December 2016 – 10 Tips to Keep you Healthy During the Holidays
January 2017 – Eating for Energy
March 2017 – Can a Vegetarian Diet Meet the Nutritional Needs of Athletes?
April 2017 – Muscle Building Meals and Snacks for Athletes
June 2017 – Recipes to Promote Gut Health