Have you tried Tempeh yet? I find most clients that come to me have heard of tofu, but not tempeh!
Like tofu, tempeh is also made from soybeans but they are fermented. While tofu is smooth and one consistency, tempeh is more dry, firmer and somewhat chewy. It has a nutty flavour and not quite as flavourless as tofu. Like tofu, tempeh can be marinated and take on other flavours in the dish.
Tempeh and tofu are both substitutes for meat, so they will add protein to a dish. For a 3oz serving, you will get 16g of protein and 7g of fibre, plus 10% of your iron requirements. Tempeh also provides probiotics (since its fermented).
In case you haven't seen tempeh before in the grocery store, here is a link to one that I use often – Light Life Tempeh. It can be found at Zehrs, Loblaws and the Superstore in the Natural Value section.
Often times I cube up tempeh without cooking it and throw it in salads. I have tried some marinades in the past (including a peanut thai marinade I need to share with you!) but recently I made this Maple Balsamic Tempeh which is absolutely delicious! I mixed it with some roasted Brussels sprouts and quinoa but would also work great on salads and in wraps.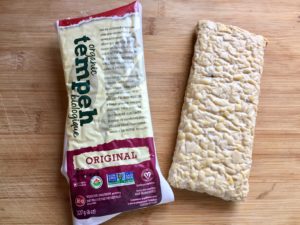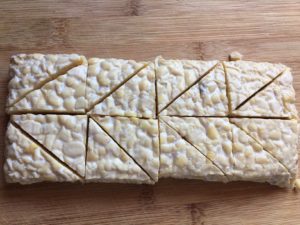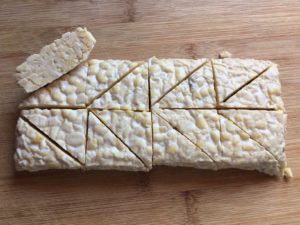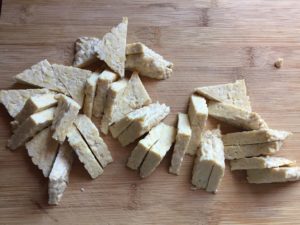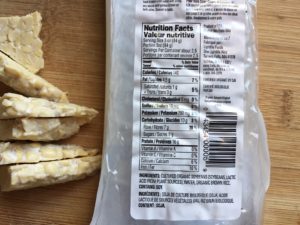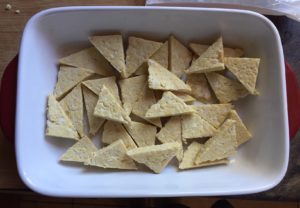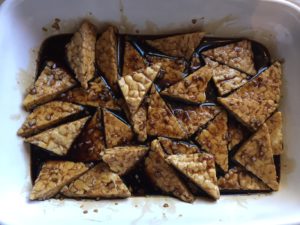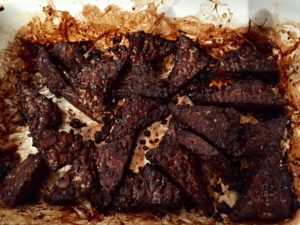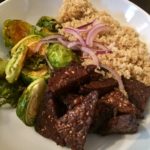 Maple Balsamic Roasted Tempeh
Ingredients
1

227g

package of tempeh

1/3

cup

balsamic vinegar

1/4

cup

maple syrup

1

tbsp

soy sauce

1

tsp

minced garlic

1/2

tsp

minced ginger
Instructions
Slice tempeh into triangles. Cut the block of tempeh in the middle lengthwise. Cut into 4 pieces width wise so that you end up with 8 smaller rectangle pieces. Cut those rectangles in half to make triangles.

Place in a small casserole or pyrex dish.

Mix all of the marinade ingredients in a bowl. Pour over the tempeh and mix so all pieces are covered. Let marinade for 3-24 hours covered in the fridge. Stir throughout the time it is marinating.

When ready to cook, preheat the oven to 375F. Roast in the oven for about 30-40 minutes until the marinade is soaked up by the tempeh.

Serve with quinoa or rice and veggies or on a wrap. If you like, you can make extras of the sauce to pour over your rice/quinoa bowl.