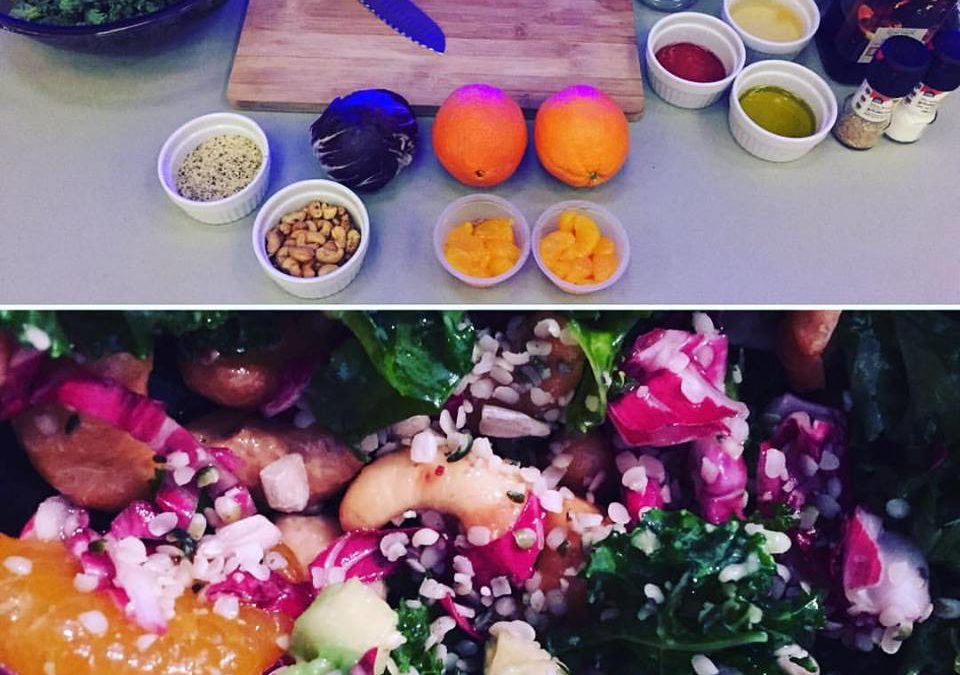 I made this recipe as part of a cooking demo for a Nutrition and Exercise Symposium with the Arthritis Society on March 18, 2017.
The key to making kale taste great is to massage it! Doing so takes it from tough and bitter to softer and more flavourful. The great thing about this salad is that any leftovers will not wilt, it will actually taste better if it marinates in the fridge for up to 24 hours. This recipe is easily customizable to your preferences. Some other great additions to the salad would be cooked quinoa, dried cranberries, pomegranate, goat cheese or substituted with another nut.
Serves: 4    Total time: 15 minutes
Ingredients:
1 medium bunch of kale, de-stemmed and chopped or ripped into bite sized pieces
1 orange, segmented and chopped into bite sized pieces or ½ cup canned mandarin oranges in 100% fruit juice
1 tsp and ¼ cup of olive oil
1 tbsp of red wine vinegar
2 tbsp of orange juice (fresh juice from the orange or juice of canned mandarin oranges)
½ cup raw or dry roasted, unsalted cashews, chopped
½ small head radicchio, chopped into bite-sized pieces
Salt and pepper to taste
Directions:
Massage the kale: Wash, de-stem and chop or rip the kale into bite-sized pieces and place in a large bowl. Drizzle a tsp of olive oil over the kale and a pinch of salt. Use your hands to rub the olive oil onto the kale so that it covers each leaf evenly. Do this for 1-2 minutes. You will feel the kale begin to soften. Set aside.
Make your vinaigrette: In a bowl or mason jar, mix the ¼ cup of olive oil, 2 tbsp of orange juice and 1 tbsp red wine vinegar. Add salt and pepper to taste.
Add chopped cashews, oranges, radicchio to the kale and mix. Add the dressing and toss to combine.
Serve immediately or keep in the fridge for up to 24 hours.
Notes: Afterwards I also added a few tbsp of hemp hearts and sunflower seeds and diced avocado.