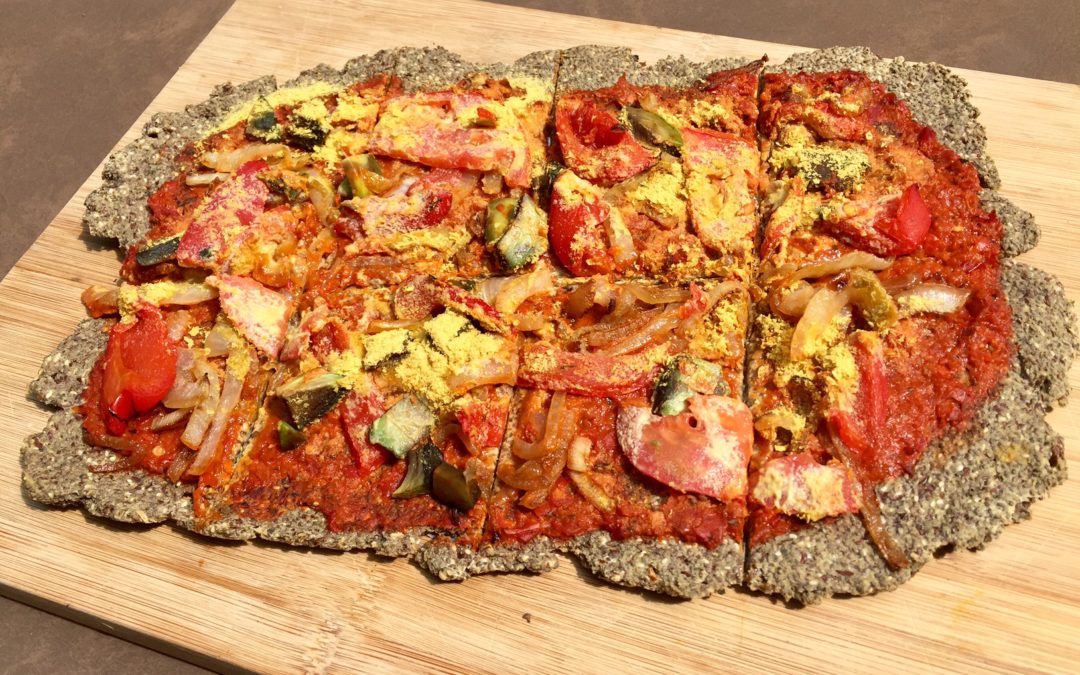 Have I got a pizza crust for you!
Super filing, high protein and high fibre! It is also vegan and gluten-free. It's a great way to add omega 3 healthy fats to your diet. It is also a source of calcium, iron and potassium!
Ingredients:
1/2 cup chickpea flour (I used Bob's Red Mill Chickpea and Fava Bean Flour)
1/2 cup chia seeds
2 tbsp flax seeds
3/4 cup water
salt and pepper
1 tsp garlic puree (or use garlic powder)
Chili flakes to taste (depending how spicy you would like it!)
Also have tried with 1-2 tsp of Italian seasoning which is great!
Directions:
1. Preheat oven to 375F. Line a baking sheet with tin foil (if making one large pizza crust) or two baking sheets if making individual size pizzas. Grease the foil with olive oil.
2. In a medium sized bowl, mix chickpea flour, chia seeds, flax seeds together. Add water and mix thoroughly. Add salt and pepper, garlic and chili powder and any other spices you are using and stir to combine.
3. Let sit for at least 30 minutes.
4. In one large piece or in individual circle or square shapes, flatten the dough out evenly to make a thin crust. Cook in the oven for 15-18 minutes. The edges should start to look crispy.
5. Remove from oven and add your toppings. See below for ideas. Place back in the oven for about 8-10 minutes until cheese melts.
Topping suggestions:
Spread:
Roasted red pepper spread or hummus
Roasted red peppers
Toppings:
Red onion or caramelized onions
Tomatoes
Avocado
Mushrooms
Cheese:
Feta cheese or Nutritional Yeast
Nutrition facts for 1/3 of crust recipe: 
245 cal, 26g carbohydrate (16g fibre, 2 g sugar) 12g fat (mainly unsaturated) 10g protein
Enjoy!!
-Andrea Docherty, RD