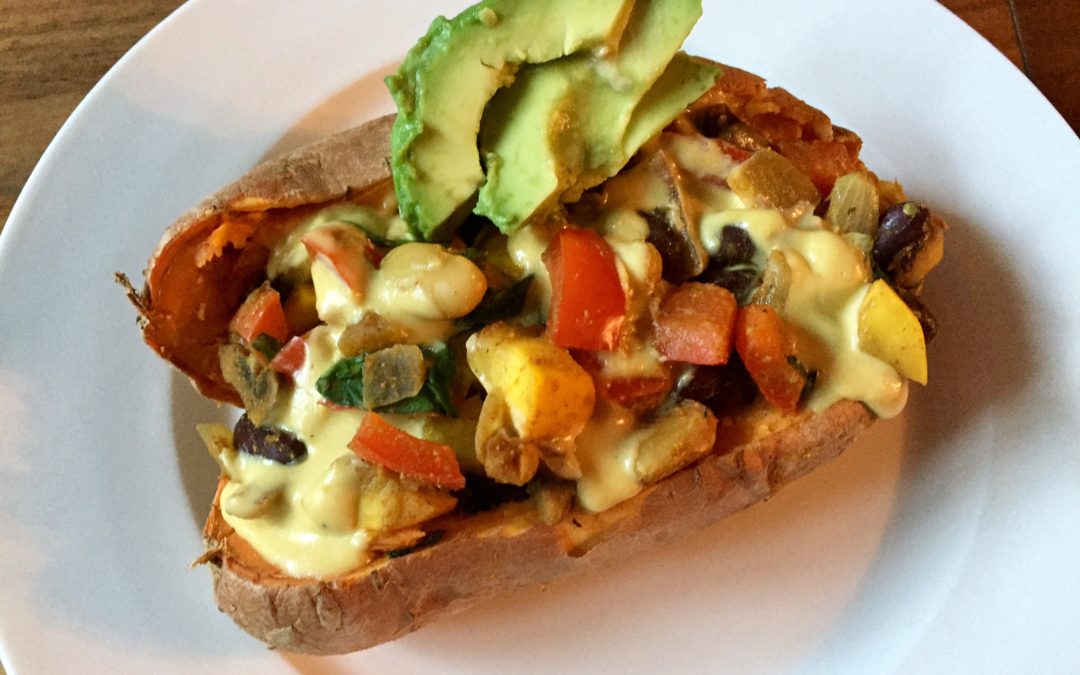 This recipe was inspired by my favourite dish from a local restaurant, Earth Eatery in Windsor, Ontario. Its high in fibre and a good source of protein. Adjust the carbs in the recipe by adjusting the size of the sweet potato that you use to stuff the veggies and bean into. Tahini is made from sesame seeds and traditionally used in hummus.
This is a great recipe for busy athletes because its full of healthy carbohydrates to fuel or refuel your training.
Ingredients
– 1 yellow zucchini, diced
– 1 green zucchini, diced
– 1 red pepper, diced
– 1 large onion, diced
– 1 can of kidney beans, no-salt added, drained and rinsed
– 1 can of white kidney beans aka cannelloni beans, drained and rinsed
– 2 tsp olive oil
– A few cups of spinach
– Up to 1/4 cup vegetable stock
– Sweet potatoes (for stuffing)
– Avocado, sliced (for topping)
Spices (Approx amounts – use more or less to taste)
1 tsp Cumin
2 tsp Curry Powder
1 tsp Ginger, ground
1 tsp Garlic Powder
1-2 tsp Chilli powder or paprika
1/2 – 1 tsp Cinnamon
Sauce
1/4 cup Tahini
3 tbsp Nutritional Yeast
1 tbsp Lemon juice
salt and pepper to taste
Up to 1/2 cup water (may not need all)
Directions:
1. Heat oil in a large pan to med-high and add onions and cook for a few minutes. Add zucchini and peppers and cook for a few more minutes until they begin to soften. Add the two types of beans and the spices and stir to combine, turn down to low-medium heat. If you need to add some moisture, pour in vegetable stock at a tbsp at a time. Cook for a few minutes to heat everything. Add spinach and stir. Cook until spinach is wilted.
2. Meanwhile, cook sweet potatoes to stuff the bean mixture in. You can bake these in the oven or for convenience, microwave them. To microwave: wash and make a few pokes with a fork. Cook in the microwave at 4 minute intervals until soft. You could stuff about 4 with the recipe or just eat the veggie + bean mixture on its own.
3. Make the sauce by mixing the tahini, nutritional yeast, lemon juice salt and pepper. It will be very thick so add water slowly to get to desired consistency. As the sauce sits, it thickens up. I like the sauce thick for this recipe, but I used about 1/4 cup.
4. Once the sweet potatoes are cooked, let them cool slightly and cut in half. Scoop out a bit of the insides and either save this for another recipe or dice this up and add to the pan of veggies.
5. Top the sweet potato with the bean and veggie mixture. Drizzle with the tahini sauce and add sliced avocados on top and enjoy!
– Andrea Docherty, RD