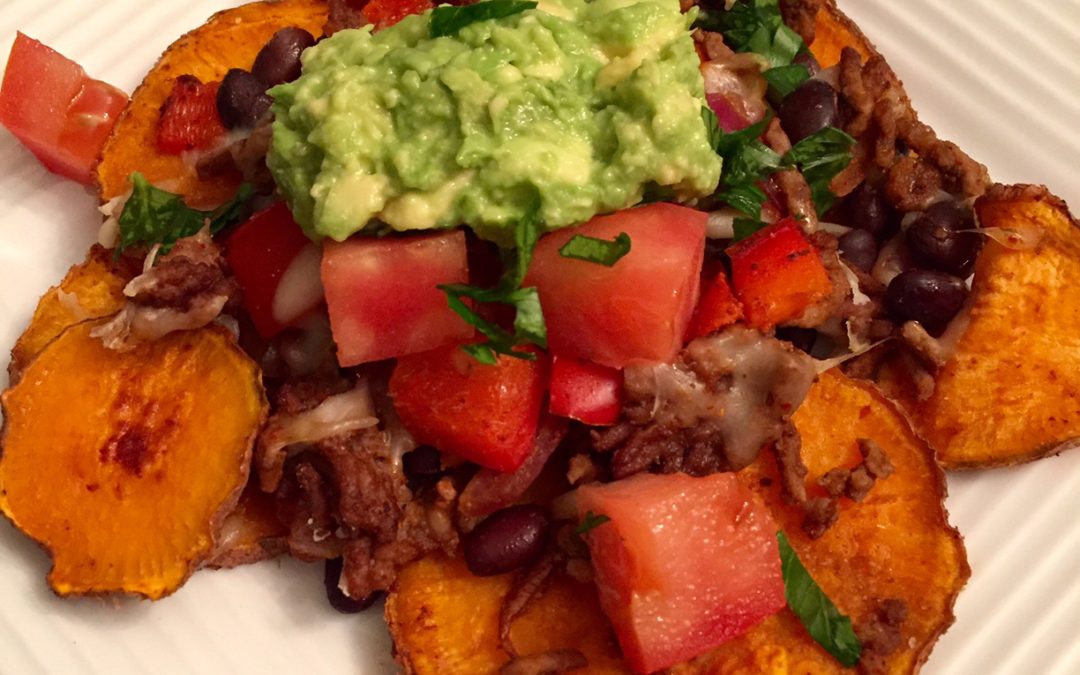 Sweet potatoes are a great alternative to chips! Cut back on the fat and sodium content while still enjoying the flavours of nachos. Keep the skin on for even more fibre. These nachos make a great healthier party snack or dinner.
Ingredients:
For sweet potatoes:
2 large sweet potatoes
1 tsp olive oil
½ tsp garlic powder
½ tsp paprika
salt and pepper to taste
For topping:
½ pound extra lean ground beef (or ground turkey or ground chicken)
½ red onion, diced
½ red pepper, diced
1 tsp olive oil
1 cup black beans
2 tsp chilli powder
1 tsp cumin
1 tsp paprika
¼ tsp garlic powder
½ cup shredded sharp chedder cheese or Monterrey Jack cheese
For topping (after cooking):
1 avocado, ripe
juice of a lime
salt, pepper and garlic powder to taste
½ tomato, diced
2 tbsp minced cilantro
Salsa, sour cream (or Greek yogurt), optional
Directions:
Preheat oven to 400F and line a baking sheet with tin foil.
Wash and dry sweet potatoes. Leave the skin on and slice into ¼ inch rounds. Place into a large bowl and add olive oil and spices. Toss gently to coat evenly.
Lay sweet potato rounds on a baking sheet in a single layer. Cook for 40 minutes and flip half way through.
Meanwhile, cook the ground beef in a large frying pan or skillet. In another pan, heat olive and cook onion and red pepper until soft. Transfer onion and pepper to pan with the cooked ground beef. Turn down the heat to low-medium and add the black beans and chilli powder, cumin, paprika and garlic powder. Cook for 5 min, stirring well to mix all ingredients. Turn down to low until sweet potatoes are finished.
Once sweet potatoes are finished (they should be soft and edges starting to brown), remove from oven. Arrange the sweet potatoes closer to the center of the baking sheet so there are no gaps between them and the overlap slightly.
Top the sweet potatoes with the beef, vegetable and bean mixture. You may find that you have too much topping – if there are leftovers, use for another dinner as taco filling or to make taco salad.
Add shredded cheese on top.
Place this back in the oven and cook for about 5-10 minutes, or until cheese melts.
Meanwhile, mash avocado and mix with lime juice. Add a dash of salt, pepper and garlic powder to make a simple guacamole recipe. Or use your favourite recipe/store bought version.
Once the nachos have cooked and cheese is melted, transfer to a serving dish. You can top the whole plate or serve up individual portions and allow everyone to add additional garnish and toppings themselves (guacamole, diced tomatoes and minced cilantro).
Enjoy!